Journey to the Loita Hills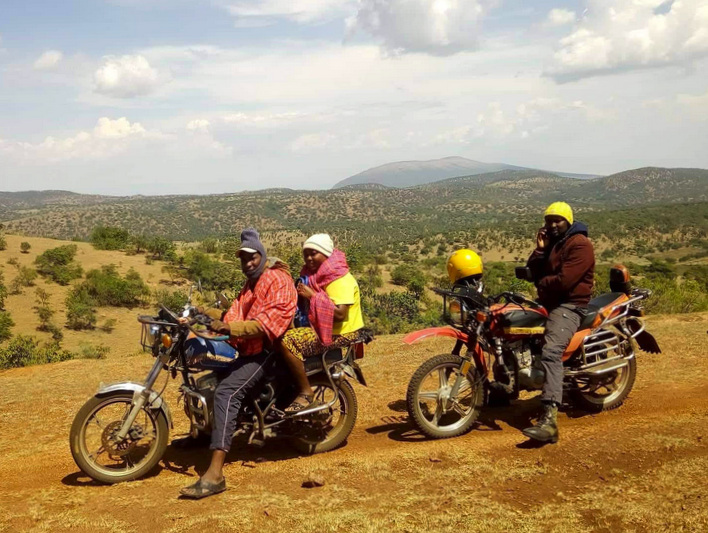 MOTORCYCLES, LIONS &
NEW COMMUNITIES
For the Good began expanding our work to Narok County in 2019. Girls in Narok face deeply challenging barriers to their ability to stay in school. As a result, they have some of the lowest school attendance rates in Kenya. Programs Director Millicent Garama traveled with Executive Director Kayce Anderson to Narok in the spring of 2019 to assess community needs and interest in working with FTG.
Narok County lies in southwestern Kenya, seven hours travel from our home base in Chogoria on the eastern slopes of Mount Kenya. After three years of successful work in Tharaka-Nithi County, we were looking to shift our work to a region of Kenya with significantly higher need. Enrollment data from the GOK (Government of Kenya) * showed that not only was Tharaka Nithi doing well, it was the best in Kenya in terms of education access, enrollment and transition of girls to secondary school, an amazing 96%. This reassured us that it was time to shift our work to a new region of Kenya .
The same data revealed that girls in the eastern and Maasai lands in southern and southwestern Kenyan counties were transitioning to secondary school at some of the lowest rates in all of Kenya. We were traveling to Narok to meet with communities, assess their needs, and determine their interest in working with us to address barriers that were keeping their girls out of school.
The driver and I set out for Narok from Chogoria early at 4 AM. When the birds sang their first songs we had traveled many miles eastwards towards Nairobi. Kayce had flown in from the US the night before and was waiting for us at her hotel there. After a cup of tea we started our journey.
The route from to Narok skirts the escarpment that marks the Great Rift Valley. The road is rough and narrow, with steep drop offs and so many big trucks on the road there are often accidents and we moved at tortoise speed. When we arrived we met Amos, a Masaai who was to be our guide, and proceeded to Loita Hills on an unpaved road full of pot holes; the dust clouds were so thick that you could hardly see. Amos told us of the challenges they face when it rains and the roads become impassable due to mud. One time, when Amos was riding a motorbike across the escarpment, he met a brown lion with a black mane. The lion stood his ground, and Amos described how he quickly reversed his motorbike and flew off while the lion roared and roared!
After Kayce returned to the U.S., I returned to Narok a second time, traveling to Entasekera. At 6:00 AM the next morning, I was woken up by the sweet noise of birds in the trees near the guest house. We set off towards Mausa on motorcycles because the road was full of stones, steep climbs and very narrow: too rough for vehicles. Ahead of us, the Loita hills were continuously spread like sheets. When we finally reached Mausa, we met the headmistress of the schools there. She told us about a recent survey day conducted by Narok's Education Officer and the Chief, who went through the community of Mausa, near the Tanzanian border, looking for out-of-school children. They found 400 children, half of them had already been married off and were no longer attending school at all. She explained how in the community, a male child is often valued more than a girl, and thus many families would rather use their resources educating a boy since girls can marry and bring wealth to their parents in terms of cows.
Later, when we held a meeting with the school management committee and some local leaders, I shared a local saying we have in Chogoria that an egg cannot brood another egg to get a chick, an analogy we use to describe how important it is that girls be allowed to mature. They corrected me and said they do not keep chicken! So I immediately changed the saying and told them that a calf can never breastfeed another calf - only a cow can breastfeed a calf. They agreed with this, and so we ended by agreeing that girls need to be left alone to go to school and be given opportunity to be empowered grown women before they are married off.
The next step in our work will be to begin to work, in the future, with elders, families and teachers in the Loita Hills to decide the best ways to keep girls in school and create opportunities for them to gain an education, agency and voice. The goal of For the Good is to ensure enrollment of children in school, to support their transition from primary to secondary school and encourage retention until they finish. We see a huge opportunity to create this change for girls in the Loita Hills, a region with such deep need for support. We are thrilled to begin our work here.
*Enrollment data referenced is in the GOK Ministry of Education, Science and Technology's Basic Education Statistics Report, created with the technical assistance of UNICEF and the UNESCO Institute for Statistics.